Terry's Peeps wrote:
Juice's Lecture Notes wrote: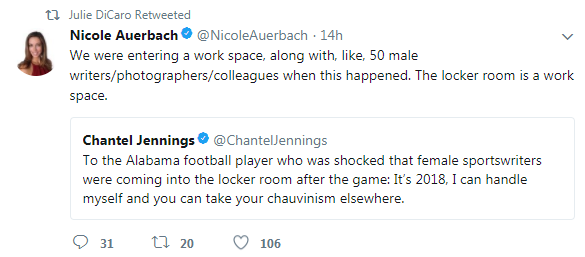 Unless you are employed by the team, it is their "work space", not yours. Starbucks doesn't become your "work space" when you bring your laptop there.
The locker room is a media work space, for better or worse.
If it's that big of a deal, teams should designate that players will only speak to the media in a conference room.
Sure, put them in a conference room, there is no "work place" argument for a reporter in a locker room. Those are facilities owned and maintained for people other than the media, the allowance of media in the locker room is a courtesy, not an obligation (provided other discrimination laws are not violated).
Added into this is the fact that these weren't professionals, for whom media availability are a negotiated contractual obligation, these were college kids, who have their amateurism imposed on them.
It isn't wrong, nor chauvinistic, to not particularly enjoy people, or women in particular, being around you while you're getting naked.